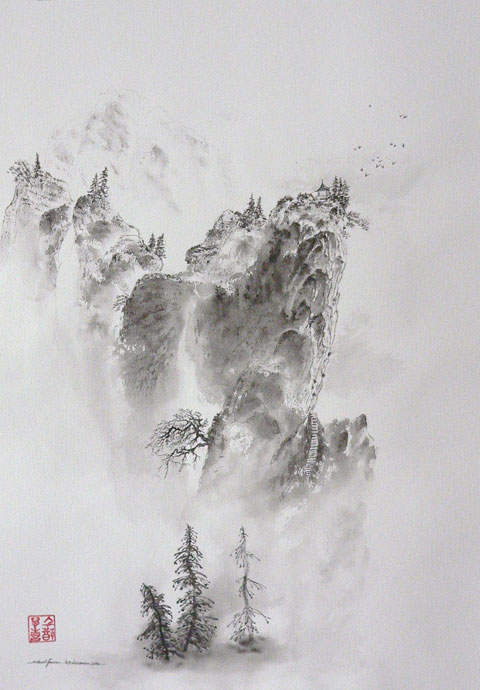 In a period of abundance of images and colors, the Tch'an (China) or sumi-e (Japan) art whispers a quiet silence and proposes in counterpoint a silent working of the beauty.

"The purity of the silence" is away from any excitement or useless, just the evocation of a breath, a motionless rustle of trees, deaf and majestic of high mountains.

In the sober art of the black and white, this painting "spaeaks to us" about a discretion and does not try to stand out but to suggest. A discretion which revisits our silence.

This "art of the simple" is done with the black ink without any retouch, in a fast way after a time of meditation. The thousand-year-old rules remained the same until this day : sobriety, liveliness, rhythm of the plan, the representation of the life until its shiver in everything.

Through his paintings the contemporary glance of Robert Faure tries to emphasize the main part, the soul of things rather than the detail. He revisits in his way one of the oldest and pure styles of ink painting, the tch'an painting, leaving an important place to the suggestion and to the empty spaces.

For more than 35 years, he is faithful to this style of painting and keeps on perfecting his art during regular journeys in China and Japan.

Robert Faure has exhibited for the second time in China, at the Museum of the Fine Arts Academy of Hangzhou in june 2014. He was the first western painter exposed in this very famous Museum.
In may 2013, Robert Faure was also the first western painter of tch'an art exhibited at the very famous national gallery Rong Bao Zhai of Beijing. His paintings were very appreciated by numerous Chinese painters, teachers and students of the Academy.